Dermal XL by Dixie Health is a safe, effective natural cream containing natural plant-derived herbs designed to increase vaginal moisture, libido, and energy. It comes in a 2 ounce tube.
Dermal XL is designed for relief from:
Dermal-XL can help to repair vaginal dryness as well as increase libido and energy. Regular use of this product can help keep a woman's pelvic area healthy and enhance intimacy.
Dermal XL contains no alcohol, and is designed specifically for vaginal use.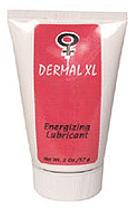 With Free US Shipping!


Vaginal Dryness
When the vagina isn't properly lubricated, it can feel itchy and irritated. Vaginal dryness can make daily activities uncomfortable and intimacy less pleasurable. During menopause, vaginal dryness is the most common cause of painful sex.

Vaginal dryness is a common condition that affects women of all ages. It is estimated that anywhere from 10 to 40 percent of women who've reached menopause have symptoms related to vaginal dryness. Some the symptoms include: dryness, itching, burning, irritation, a feeling of pressure, and pain or light bleeding with sex.

Dermal XL is designed to ease the symptoms of vaginal dryness by increasing hormone levels in the vaginal area naturally.

Dermal XL Primary Ingredients
Dermal XL contains DHEA, aloe, schisandra, smilax, and pure essential oils, in a synergistic formula which increases hormone levels in the vaginal area.

DHEA is an adrenal hormone which can convert to both estrogen and testosterone. Schizandra is recognized by herbalists to have anti-depressant, anti-fatigue, and aphrodisiac qualities, as well as being a urogenital tonic and uterine stimulant. Schisandra may also be helpful for night sweats. Smilax is used for hormone balance, loss of libido, and boosting energy. Dermal XL is pH balanced and its new formula is completely chemical free. Dermal XL contains no alcohol, and is designed specifically for vaginal use. Dermal XL rapidly helps to restore vaginal lubrication and tone while boosting libido.

What to Expect
Vaginal moisture should increase upon the initial application of Dermal XL. The amount of and timing for an increase in libido will vary. Each woman's body is different. Some women will notice an increase in libido in a day or two of daily use. For other women, it may take several weeks of daily use to notice a significant increase in libido. Remember to give your body time to adjust.

Directions: Wash hands before application. No applicator is needed. Use about ¼ tsp. vaginally after daily shower or bath until desired results are achieved. Then use as needed, usually several times per week.

Most users will get the best results using 1/4 teaspoon daily for maintenance. If the area is severely dry, more can be used and applications can be twice a day until the desired moisture and level of libido is reached. Pregnant and breast-feeding women should not use unless under the care of a qualified health professional.

Ingredients:
Whole Leaf Aloe Vera Concentrate, Purified Water, Carthamus Tinctorius (Safflower) Seed Oil, Caprylic/Capric Triglyceride, Cetearyl Alcohol, Stearic Acid, Prasterone (DHEA), Caprylyl Glycol, Phenoxyethanol, Dioscorea Villosa (Wild Yam) Root Extract, Xanthan Gum, Cucumis Sativus (Cucumber) Fruit Extract, Schisandra Chinensis Fruit Extract, Smilax Aristolochiaefolia (Sarsaparilla) Root Extract, Sodium Hydroxide, Rosa Damascena (Rose) Flower Oil, Citrus Aurantium Bergamia (Bergamot) Fruit Oil, Jasminum Officinale (Jasmine) Oil, Commiphora Myrrh Oil, Lavandula Angustifolia (Lavender) Oil.