DHEA - Deep Hydrating Essential Aloe Cream for Women is a special safe anti-aging OTC body cream for women. It contains both DHEA and natural progesterone. The ingredients found in DHEA Cream for Women are natural compounds derived from all natural resources.

Directions:
Use approximately ľ tsp. per application (scoop enclosed), once or twice daily.

Ingredients:
Deionized Water, SD Alcohol, Caprylic/Capric Triglyceride, Polyacrylamide C 13-14, Isoparaffin, Laureth 7, Aloe Vera Gel, Progesterone, DHEA, Phenoxyethanol, Pregnenolone, Tocopheryl Acetate, Chrysin

Packaging:
2 fl. oz. tube. Contains approximately 46 uses.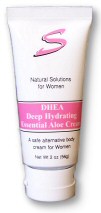 Free US Shipping!

| | | | |
| --- | --- | --- | --- |
| 1 tube | $18.90 | ($18.90 ea) | Buy it |
| 2 tubes | $35.80 | ($17.90 ea) | Buy it |
| 6 tubes | $93.00 | ($15.50 ea) | Buy it |
| 12 tubes | $159.00 | ($13.25 ea) | Buy it |