DHEA - Deep Hydrating Essential Aloe Cream for Women is a special safe anti-aging OTC body cream for women. It contains DHEA, natural progesterone, and pregnenolone. The ingredients found in DHEA Cream for Women are natural compounds derived from all natural resources.

DHEA Cream for Women Directions:
Use approximately ľ tsp. per application (scoop enclosed), once or twice daily.

Ingredients:
Deionized Water, SD Alcohol, Caprylic/Capric Triglyceride, Polyacrylamide C 13-14, Isoparaffin, Laureth 7, Aloe Vera Gel, Progesterone (20 mg per 1/4 tsp), DHEA (10 mg per 1/4 tsp), Phenoxyethanol, Pregnenolone (3 mg per 1/4 tsp), Tocopheryl Acetate, Chrysin

Packaging:
2 fl. oz. tube. Contains approximately 46 uses.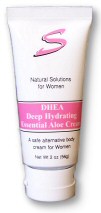 Free US Shipping!

| | | | |
| --- | --- | --- | --- |
| 1 tube | $18.90 | ($18.90 ea) | Buy it |
| 2 tubes | $35.80 | ($17.90 ea) | Buy it |
| 6 tubes | $93.00 | ($15.50 ea) | Buy it |
| 12 tubes | $159.00 | ($13.25 ea) | Buy it |