Especially formulated for people experiencing hair thinning or rapid hair loss
Great for thickening eyebrows
Strengthens the hair at its root to help reduce rapid hair loss trend and promote stronger, healthier hair
Helps to clear any existing clogged hair follicle to promote hair re-growth
Formulated with 100% natural oils and extracts
Does not require daily use. One or two applications per week is all that is needed
Results are noticed in the feel and fullness of hair within 1 or 2 applications.
For both men and women
No preservatives or fragrance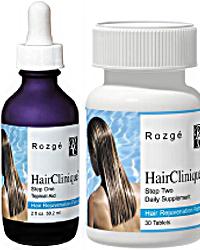 Free US Shipping!
1 Hair Serum - 2oz $24.95 Buy it
1 Hair Supplement - 30 tabs $24.95 Buy it
Serum + Supplement Combo $47.90 Buy it
Save $2.00!
HairClinic Plus is a unique blend of natural oils and extracts. It is especially formulated to help reduce rapid hair-loss while rejuvenating the hair and scalp. It can even help to thicken thinning eyebrows!

HairClinic Plus naturally helps to restores the hair's daily loss of nutrients and moisture. HairClinic Plus has a concentrated formula which requires application only once or twice a week for maximum results. This is an ideal product for those who blow-dry or use hair sculpting products on a daily basis. It is also great for the summer beach environment. Use HairClinic Plus tablets everyday in conjunction with the liquid to give you healthy, strong, shiny hair everyday.

Directions
HairClinic Plus - Serum. Place 8 to 10 drops directly onto scalp and massage thoroughly (about 3 to 5 minutes), once per week. Leave HairClinic on as long as possible (for example, apply at night and remove by shampooing in the morning. Or apply in the morning and shampoo at night). For eye brows, apply carefully using either your finger or a cotton swab. For best results use in conjunction with HairClinic Supplement.

HairClinic Dietary Supplement. Use as a supplement for hair, take one tablet daily. Always consult your physician before using this or any other supplemental product. For best results use in conjunction with HairClinique Serum.
Ingredients
Hair Clinic Plus - Serum. Proprietary blend of natural plant extracts which includes Vegetable Oil, Sesame Oil, Amlica Embillicus, Herbal Extract, Vitamin E acetate.

Hair Clinic Dietary Supplement. Vitamin A, Vitamin C, Vitamin D, Vitamin E, Vitamin B-1,Vitamin B-2, Niacin, Vitamin B-6, Folic Acid, Vitamin B-12, Biotin, Pantothenic Acid, Calcium, Magnesium, Zinc, Selenium, Copper, Manganese, MSM, Horsetail extract, Choline, Inositol, PABA (as para amino bezoic acid), Boron, L-Cysteine, Citrus bioflavonoids, Nettle Leaves, Methionine, Trace minerals, Dicalcium phosphate, Cellulose, Croscarmellose sodium, Silicon dioxide, Stearic acid, Magnesium stearate, Pharmaceulical glaze.