Encourages healthy eyelash growth

For both men and women

100% natural formula

Strengthens and conditions lashes

Fuller, darker, and healthier eyelashes

Hypoallergenic and non-comedogenic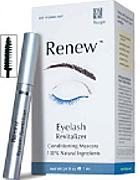 Free US Shipping!

Renew - 7 ml (3-4 month supply)
$59.00 Buy it
Thick, full, long lashes have never been so easy!
For those who want the benefit of longer lashes with Renew, but don't want to use a liquid eyeliner, you now have a choice of using this easy to apply mascara applicator wand.
Renew Eyelash Revitalizer Conditioning Mascara gives you the great benefits of Renew Eyelash Revitalizer ™, in a form that's both convenient and easy to use. All you have to do is apply this product to your lashes, just like mascara, wait a few minutes for the natural formulation to be absorbed by your lashes, and you are ready to go.
Renew Eyelash Revitalizer Mascara will go to work, giving your smudge proof lashes a thicker, fuller look as well as conditioning them, for long term results that will amaze you.


Things to know before using Renew Eyelash Revitalizer Conditioning Mascara
Although most people see noticeable results within the first few weeks, it is important to note that the manufacturer recommends using Renew for at least 10-12 weeks before expecting significant change. Your eye lashes did not get to this stage overnight. Be patient and allow Renew Eyelash Revitalizer Conditioning Mascara to start producing results. For maximum results we recommend using Renew Eyelash Revitalizer Conditioning Mascara during the day and Renew Eyelash Revitalizer at night before going to bed. The area should be clean and dry before application. Keep in mind that damaged eye lashes may never be completely restored, but you should notice a significant improvement.
Cautions
Do not put inside the eye. For topical application only. Flush eye with water in case of accidental contact. Avoid contact with open wounds. Do not ingest. Discontinue use if rash or discomfort occurs. In case of irritation, consult your physician immediately. Use only as directed. Keep out of reach of children.
Ingredients
Purified Water, Glycerin, Sorbitol, Butylene Glycol, C12-C15 Alky Benzoate, Chamomilla Recutita (Matricoria) Extract, Foeniculum Vulgare (Fennel Extract), Renew Conditioning Complex TM Nettle Extract, Jaborandi Extract, Horsetail Extract, Biolinoryl Tripeptide, Biotin, Hydrogenated Soy Protein, Proanthocyanidin, Apigenin, PRG-26-Buleth 26- PEG-40, Hydrogenated Castro Oil, Butylen Glycol, Sodium Hyaluronate, C1--C30 Alkyl Acrylate, Dimethicone), Methylparaben, Propylparaben, Tocopheryl Acetate, EDTA.