VitaOx Complex - Topical Antioxidant Gel
This may be the most beneficial skin care product you will ever use!
Effectively controls free radicals, reduces skin damage, and maintains skin's youthful vitality through a network of 11 powerful antioxidants.

NuPeel - Natural Skin and Facial Peel
Created by a plastic surgeon.
Helps even-out skin imperfections. Helps reverse signs of aging skin such as: wrinkles, rough skin, uneven skin tone, skin dullness, enlarged pore size, blotches and age spots, and dryness.
Skindulgence - Natural,
Non-Surgical 30-Minute Facelift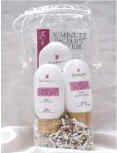 Diminish the appearance of fine lines and wrinkles.
Improve skin tone and color.
Develop the feel of firm facial muscles.
FREE US SHIPPING
Visible results after the first use!
Ceramide-C
Age and Wrinkle Defying Serum -

Reduce the appearance of fine lines and wrinkles by restoring the skin's ceramide.
Instantly re-texturizes for a silkier, softer skin that looks smoother and younger.
Encapsulated for maximum purity and potency.