Do I need internal cleansing?
Everyone does! Why? Because we are all exposed contaminating factors on a daily basis. Even if we eat organic foods, drink bottled water, and avoid smog filled cities, there are still unavoidable pollutants in our air, and water.

What are common symptoms of a toxic body?
Poor elimination, bloating, gas, brain fog, forgetfulness, headaches, allergies, overeating, poor circulation, fatigue, mood swings, bad breath, stiff joints, cold hands and feet, recurring infections, indigestion, poor skin, cellulite, and lower back pain are only some of the symptoms.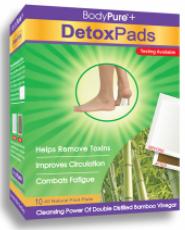 1 Box $29.95 Buy it
3 for $89.85 (with free testing) Buy it
Free US Shipping!
How Does Body Pure + Work?
BodyPure mainly uses elements of tree sap to draw toxins from your system, as can be seen by the residue drawn onto the pad after proper use. The Body Pure detox patch encourages 'self-healing' by promoting improved circulation and release of toxins through the K Meridian (Kidney Meridian located on the sole of the foot). BodyPure does not treat or cure anything by releasing any active ingredients into the body. It simply stimulates your natural system to detoxify and cleanse.

How does Body Pure+ differ from BodyPure (original)?
BodyPure + has several enhancements to the Body Pure (original). They are:
Higher content of the active ingredient:
BodyPure + contains 3 times more bamboo vinegar.
Larger pad with more content:
Body Pure + is 30% larger, and contains 5 grams of our custom herbal blend (previously 4 grams).
Additional ingredients:
Citronella (antibacterial / deodorizer), Diatomaceous Earth (for strong absorption qualities)
Customer Requested Changes:
Removal of the foil backing and of the Chitosan ingredient (preference for some vegetarian / vegans).
Other Changes:
Switch from vinegar blend to 100% bamboo vinegar extract, and the use of our new stick2it technology to keep the herbal powder evenly distributed.
Have the toxins in the Body Pure detox foot pad been tested?
Although the technology of the BodyPure detox patches have been used for many years in Japan, BodyPure has taken it upon themselves to provide further verification its effectiveness. The results of these tests are:
The visual evidence after using the BodyPure pad is compelling. The progress is apparent when used over a few consecutive days.
Multiple samples of pads were sent to SRC Analytical Lab, a highly accredited Environmental Laboratory. The results demonstrated absorption into the patch of nickel, arsenic and mercury amongst others.
Multiple pads for various individuals were analyzed by using a syncrometer, an electronic device used to detect individual substances by using a circuit and matching frequencies. The following substances have been identified in the used pads through this method: benzene, isopropyl alcohol, methyl alcohol, aluminum, cadmium, copper, lead, mercury, nickel, thallium, arsenic, asbestos, DAB dye, fast green dye, sudan black dye and PCB (plastic byproduct).
Hair analysis testing of toxin levels in individuals before and after the use of the Body Pure foot pads have been conducted.
Extensive research in Japan has been conducted with the use of Thermography (infrared technology). The pads have been tested for their ability to stimulate circulation by means of these thermographic sensors.
BodyPure foot patches were tested for far infrared emittance.
Further research was conducted on the healing and relaxation properties of the Body Pure + detox pads through measurement of alpha brain waves. See the figures below to compare the presence of alpha brain waves with and without the use of the pads.


What are BodyPure's quality standards?
BodyPure + is manufactured from the highest quality wood vinegar extracts, not packed with extra fillers. See below for a visual demonstration. There is no Ethylene Glycol in our product (exposure to ethylene glycol can damage the kidneys, heart, and nervous system).
The wood and bamboo vinegar extracts are condensed 5 times until both become powder. 4.0g of the powder is then placed in the Body Pure foot pad. Other products can contain starch powder in order to maximize profit at the expense of quality.
If a tincture of iodine is added to the foot pads to test the density of wood vinegar, purity can be determined by how clear the solution remains. As can be seen in the picture on the left, the products from company A and B will change color, while BodyPure does not.

If the BodyPure foot pad is dry, may I reuse it?
No, once the 'Pouch' has been used, it will be slightly moist, even if undetectable visually. For hygienic purposes, re-use is not recommended.
How often, and how long should I use Body Pure? When can I stop using the foot pad?
Initially, BodyPure + should be used nightly (on one foot) for a recommended period of thirty days. Individuals who feel that they have been exposed more extensively to toxins may choose to prolong the 30 day period or use patches on both feet. After the initial cleansing period, simple maintenance is recommended (one patch every two to three weeks).
Is it safe to use?
Body Pure + does not deliver any chemicals into your body. It simply supports your body's natural functions, and is therefore very safe. The powder contained in the 'foot pad' is acidic, but not much more so than the natural acidity of your skin.
How many foot 'pads' are included in the Body Pure+ box?
There are 10 detox 'pads', 10 adhesive sheets, and instructions for use included in each box of BodyPure +.