Research on CLA
Human clinical studies to substantiate improved body composition have been conducted worldwide.

Positive results of CLA supplementation have been seen at research centers worldwide including:

Kent State University, University of Memphis, University of Wisconsin, USDA Western Human Research Center, Medstat Research Ltd. in Norway, Uppsala University in Sweden, University of Kumanoto in Japan and University of Tours in France.

For extensive research abstracts on CLA and its potential health benefits, download the PDF files below.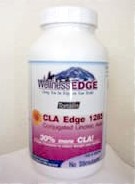 Free US Shipping!

90 capsules $26.95
Buy it